'Karkirdi Na Umbre' What Next After 12th ? titled book was published and released  by Congress party for the 18 consecutive years after Class-12? The Career guidance book will be a guide for  students-parents of Gujarat in the competitive environment. The book provide guidance of selection of courses, admission process and related information within state and out of Gujarat.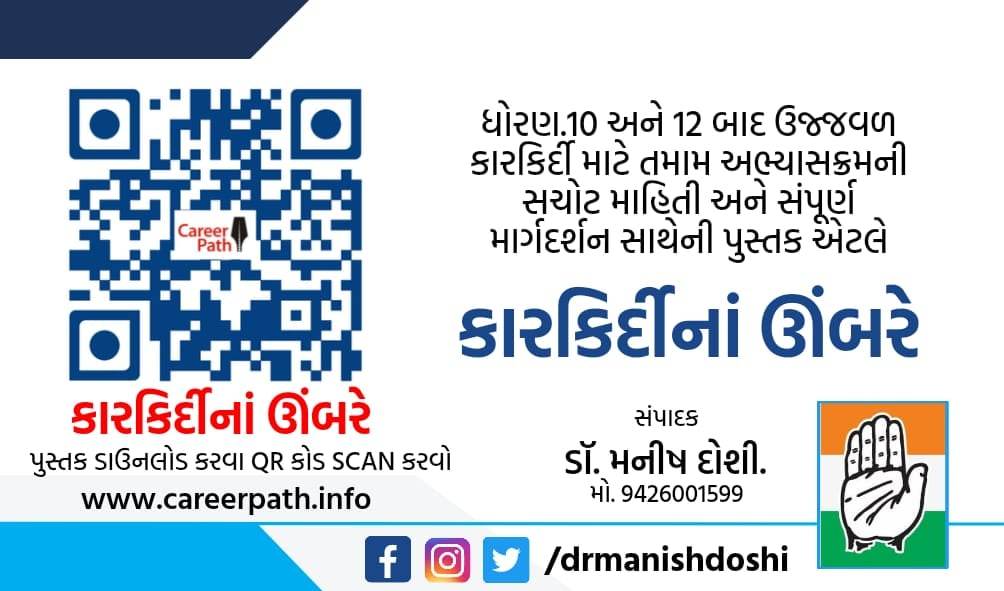 On the occasion GPCC President Jagdish Thakor, Ex GPCC President Arjun Modhwadia, Amit Chavda, Manish Doshi, Hiren Banker, Bimal Shah and other party men were there.
Special information is also included for English medium students. • A web portal that provides complete and accurate smallest information about various courses for youth of Gujarat is available at www.careerparth.info.
GPCC President Jagdish Thakor on release of "Career Parth" What next After 12th ? is a career guidance book, After class 10 and 12 course selection becomes very important for a successful life. He Congratulated to all for publishing the book.For accurate and easy guidance to all students of Gujarat, media convener and spokesperson of Congress party Dr. Manish Doshi (Engineer) and his associates have done a commendable job in publishing the book 'Karkirdi Na Umbre' for eighteen consecutive years.
Thakor futher addded that ill-advised decision to merge/close 6,000 schools in rural areas by BJP government of Gujarat is alarmingly reducing the rate of girls' education. 20 years ago Commerce subject was taught in school , BJP government has turned education into an industry. BJP government is advocating private school-college management instead of worrying about future of student of poor-common man-middle class people. Fees are charged high in private school colleges but working teachers and staff are not paid enough in most institutions. For 15 years, no Librarians have been recruited in school-college-Public Libraries by BJP government, who has announced 'Vanche Gujarat' program.
I welcome suggestions from students/parents regarding the book 'Karkirdina Umbare'. Best wishes to all students brothers/sisters to reach the highest heights of future success through bright careers. On the occasion of the release of the book "Karkirdi Na Umbre" What after 12th ? is the career guidance book after class-12 studet ,
Amit Chavda Congress MLA said, I heartily congratulate all the students who have succeeded in class-10 and 12 exams which are important for a great career in life. It is very important that students of all communities in Gujarat get quality education along with educational infrastructure for a bright career. When parents and students of Gujarat are working tirelessly and continuously striving for success, it is responsibility of the state government to work keeping future of the students of Gujarat at the center.
In 16 government engineering colleges of the state, 300 class-I posts are vacant and 369 class-III and class-IV posts are vacant. Vacancies including Teachers, Lab Assistants are seriously affecting the quality education of students in various Engineering-Pharmacy and other Degree and Diploma colleges of the state. This is a sincere effort of GPCC Gujarat Pradesh Congress Committee for 18th consecutive year to help student community in making a career through the book 'Karkirdi Na Umbre' for accurate and easy guidance to the students of Gujarat.
MLA Chavda congratulated Manish Doshi and his associates on behalf of the Congress party for their hard work. Former President of GPCC Gujarat Pradesh Congress Committee and MLA Arjun Modhwadia said that through Central Congress Government, National Institutions of Gujarat IIT, NID, New Campus, Central University and Indian Institute of Information Technology has been established, which is proving to be a proud moment for Gujarat.
As many as 32,000 Teachers are not being recruited in state government-granted schools despite vacancies, which is having a serious impact on Gujarat's education. On the other hand, when more than 47,000 youth are waiting for recruitment. Due to which the students of Gujarat are deprived of good educational facilities. Noble work of the Congress party to publish a book providing guidance for studies after class-10 and class-12 in Gujarat, done by Dr. Manish Doshi and his team, is highly appreciated.
Dr. Manish Doshi (Engineer) said that many opportunities for courses after class 12 are available at state and national level, only timely and proper guidance is needed. In which Congress party backed by various field experts and career guidance counsellors have contributed to this noble work.