Smriti Irani supports Gujarat Gaurav Mahasampark campaign in Ahmedabad
Before Gujarat Assembly Elections 2017, Union Textile Minister Smriti Irani launched Gujarat Gaurav Mahasampark campaign in Satellite area of Ahmedabad.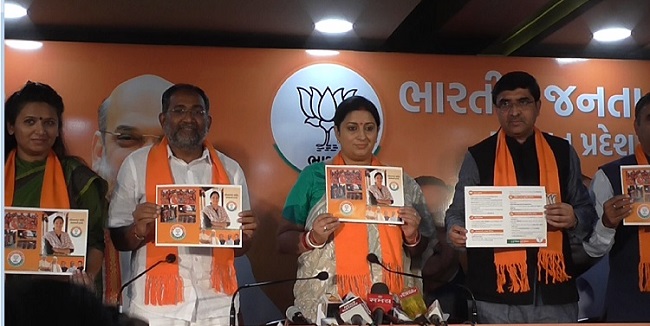 Smriti visited door-to-door and met people and conveyed message of Prime Minister Narendra Modi and appealed them to vote for BJP Bharatiya Janta Party.
She was accompanied by BJP workers and supporters. she briefed on the account of work done by BJP. Dhols were played during the campaign at Shayamal Row House.
She addressed a press conference in Ahmedabad. BJP spokesman Bharat Pandya, Harshad Patel and other BJP conveners shared the dias.
Smriti said BJP has practiced a policy of women empowerment and women upliftment with cabinet ministers in center. She attributed women related works by BJP to women of Gujarat.
She took on Rahul Gandhi and criticised his comments over not attending phones of textile workers.
Smriti Irani visit flood affected regions of Banaskantha
Today union minister Smriti Irani met people in flood affected Dhanera and Thara regions of Banaskantha district in Gujarat and thanked rescue operators/ teams for their continued services.

Smriti monitored rescue operations in Banaskantha after recent flood in the district.
60,000 people rescued in 90 Relief Camps; survey on loss to crop being made said Smriti Irani after her visit to Banaskantha.

MORE ON ,"Smriti Irani","Gujarat"
#Smriti #Irani addresses #TextilesIndia2017 Conference https://www.gujaratheadline.com/smriti-irani-addresses-textiles-india-2017-conference/ #Gujarat
#Smriti #Irani addresses on "#GST- a tool to Inclusive Growth" in #Ahmedabad https://www.gujaratheadline.com/smriti-zubin-irani-addresses-on-gst-a-tool-to-inclusive-growth-in-ahmedabad/
#Smriti #Irani minister #visited #Somnath #temple and offered prayers https://goo.gl/u3yk3z #Gujarat