What makes this visit so special for the cast? Get to know soon!
Ahmedabad, 25 April 2022:There goes a popular saying that "Where there is family, there is love." And if there is one family that has filled our hearts with laughter, warmth, and love in abundance, it's been the Wagles. Right since they steered into our lives more than a year ago, Sony SAB's Wagle Ki Duniya- Nayi Peedhi Naye Kissey has managed to enthral audiences across generations with its slice of life narrativeand heartfelt performances.With its subtle take on social issues and differentiated storytelling, the show has successfully reflected on the predicaments and aspirations of the Indian middle class. Riding on the success of the show, Sumeet Raghavan(Rajesh Wagle)and Pariva Pranati(Vandana Wagle) along with the rest of their family visited Ahmedabad today to indulge in a fun time with their fans in the city.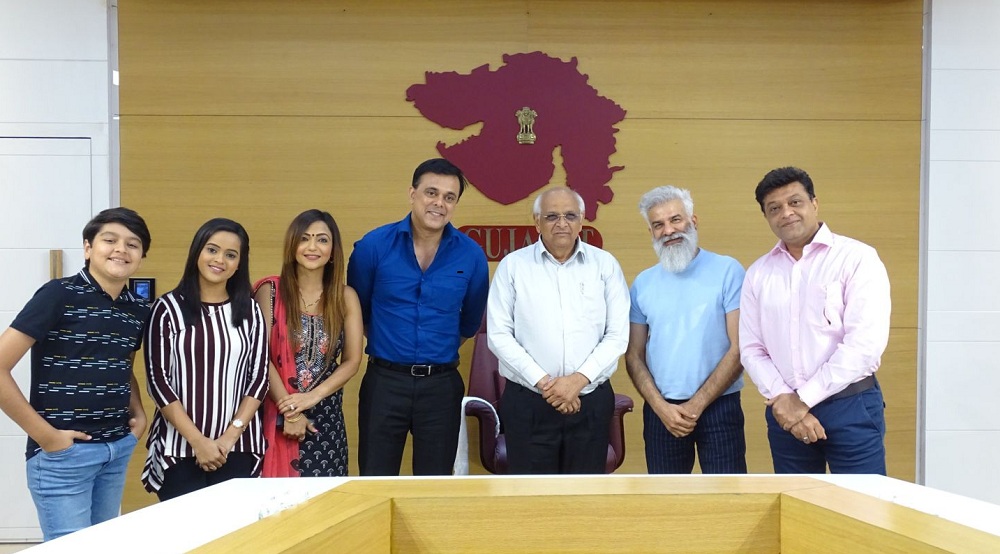 Launched as a modern-day rendition of RK Laxman's popular 80's sitcom, Wagle Ki Duniya- Nayi Peedhi Naye Kissey also features Anjan Shrivastava (Srinivas Wagle) and Bharati Achrekar (Radhika Wagle) reprising their original characters. The show is now heading towards an exciting track with little Kittu(Mahi Soni), finally finding her place in Sai Darshan Heights Society.Joys of celebration fillthe air as Joshipura(Deepak Pareek)and Yamini(Mansi Joshi)decide to adopt Kittu and begin a new chapter in their lives.
Will Atharva and gang accept Kittu? Witha plethora ofexciting incidents lined up, Wagle Ki Duniya promises to keep its audiences hooked with its seasoned star cast and engaging storyline.
Sumeet Raghavan essaying the role of Rajesh Wagle said, "Wagle Ki Duniya is every person's story. It beautifully mirrors the life of regular Indian households and stands out by offering the simplest yet significant solutions to their everyday problems. I am so glad to be a part of this legacy and portray Rajesh Wagle because I know my character, its journey and its dilemmas resonatewith a lot of families across the nation. Right since its launch, the audience has showered us with immense love and appreciation that has enabled us to bring better storylines and twists. I am really excited to be in Ahmedabad today, in the company of my fans and I am looking forward to a fulfilling day ahead."
Pariva Pranati essaying the role of Vandana Wagle said, "What makes Wagle Ki Duniya stand out as a show I feel, is its ability to talk in a common man's language. From bringing alive issues that plague our society to offering varying viewpoints on a situation to sticking together as a family in testing times, the Wagles have reinstated the beauty of middle-class families and how they strive through the daily hardships without giving up. Playing a woman of varied facets like Vandana has been a real delight and I am blessed to receive so much love. I am extremely excited to be in Ahmedabad today. These are rare occasions where we get to interact with our fans, the people who make us what we are so it's really a special feeling."
Continue watching Wagle Ki Duniya from Monday to Saturday at 9 PM only on Sony SAB
About SONY SAB:
Launched in March 2005, SONY SAB is part of the network of television channels owned by Sony Pictures Networks India Pvt Ltd. Sony SAB evolved from its 'Haste Raho' tagline in 2017 to the present re-energised philosophy of 'Khushiyon Wali Feeling' in 2019. The campaign is driven from the insight that 'jitni insaan ki khushi badhti hai, utni hee duniya mein insaniyat bhi badhti hai'. The tagline 'Khushiyon Wali Feeling' reinvigorates the brand belief that 'being happy is good but spreading happiness amongst others is even better as it makes the world a happier place'. Through this campaign, Sony SAB offers a larger purpose as a brand while moving towards a significant brand evolution, the aim of 'Khushiyon Waali Feeling' is to get customers to look at Sony SAB as 'a brand with a heart'.
Sony SAB has always been delighting its viewers and keeping them happy by going beyond entertainment and operating in the realm of happiness. With an impressive line-up of fresh, light-hearted and values driven content ranging from daily family comedy to path breaking concepts, Sony SAB is dedicated to promoting an enjoyable family-viewing experience and can truly defines Sony SAB as the 'living room brand' with something to appeal to everyone in the family. Sony SAB's Taarak Mehta Ka Ooltah Chashmah is also celebrated as one of the longest running shows daily comedies in the world, with over 3421 episodes and running in its 14th year now.
The current programming mix by Sony SAB includes daily shows like Wagle Ki Duniya – Nayi Peedhi, Naye Kissey, Shubh Laabh, Aapke Ghar Mein, Ziddi Dil – Maane Na, Maddam Sir, Sab Satrangi, Goodnight India, Dharm Yodhha Garudand Taarak Mehta Ka Ooltah Chashmah. Sony SAB is dedicated to strengthening its lineup of shows further to provide non-stop entertainment for its viewers.
Sony SAB is broadcasted in more than 44 million households in India and is present in more than 150 countries internationally, reaching over 25 million households.
About Sony Pictures Networks India (SPN):
Sony Pictures Networks India (SPN) is an indirect wholly owned subsidiary of Sony Corporation, Japan.
SPN has several channels including Sony Entertainment Television (SET and SET HD), one of India's leading Hindi general entertainment television channels; MAX, India's premium Hindi movies and special events channel; MAX 2, another Hindi movie channel showcasing great India Cinema; MAX HD, a high definition Hindi movie channel airing premium quality films; WAH, the FTA channel for Hindi movies; SAB and SAB HD the family-oriented Hindi comedy entertainment channels; PAL, a genre leader in rural Hindi speaking markets (HSM) showcasing the best of Hindi general entertainment and Hindi movies from SPN's content library; PIX and PIX HD, Sony BBC Earth and Sony BBC Earth HD, the premium factual entertainment channels, Sony AATH, the Bangla entertainment channel; YAY!, the kids entertainment channel; sports entertainment channels – SONY SIX, SONY SIX HD, SONY TEN 1,  SONY TEN 1 HD, SONY TEN 2, SONY TEN 2 HD, SONY TEN 3, SONY TEN 3 HD; SONY TEN 4, SONY TEN 4 HD Sony मराठी, the Marathi general entertainment channel; SonyLIV – the digital entertainment VOD platform; SPN Productions, the networks' film production arm and Studio NEXT the independent production venture for original content and IPs for TV and digital media. SPN reaches out to over 700 million viewers in India and is available in 167 countries.
The network is recognized as an employer of choice within and outside the media industry. SPN is a recipient of several awards, including India's Best Companies to Work For 2021 by the Great Place to Work® Institute, India, 'Aon Best Employers India' awards in recognition of SPN's unique workplace culture and exceptional people practices, consistently ranking amongst India's Top 10 Companies with Best Health & Wellness Practices by SHRM & CGP Partners and listed by Working Mother & AVTAR as one of the 100 Best Companies for Women in India.
Sony Pictures Networks India Private Limited is in its 26th year of operations in India. It has a subsidiary, MSM-Worldwide Factual Media Private Limited and an affiliate, Bangla Entertainment Private Limited in India.
For more information, log onto www.sonypicturesnetworks.com